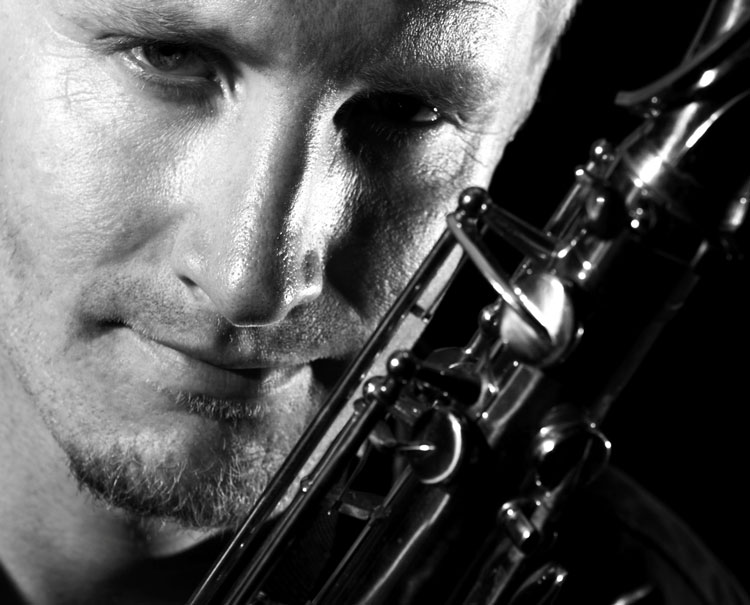 Musical Background
Looking back, I was always fascinated by music. My family was very musical and I got my start by singing to my favorite songs and playing simple melodies on the piano and recorder. When I was given my first saxophone at age 11–I was hooked.
This lead to my first guitar at age 13. I took lessons from a man named Arthur Eddington in a small shop in Indiana for $5 an hour [can you believe it?]. Over 6 months, I eventually performed Nirvana's "Polly" in front of my entire 8th grade class with great success. I also won the Best Low Woodwind Award from Shelbyville Middle School. That year, I wrote a career studies paper stating that I wanted to be a professional musician and I never looked back.
As a teen, I had my own band but I also performed in the Wind Ensemble, Concert Band, and Jazz Band. I won the Louis Armstrong Award and the Senior Band Award from Shelbyville High School [under the direction of Russell Smith] in 2000. During this time, my school bands/ensembles competed in several sight-reading contests and solo/ensemble competitions, often earning First place.
After high school, I moved to California and I got my first "real job" working for a local record store [at age 18] and started going to Sierra College. I performed in the Sierra College Jazz Ensemble [under the direction of Greg McLaughlin] and graduated with two Associates Degrees, in Music and Humanities. I received an award for Outstanding Musicianship and Contributions to the Department in 2003 [from Dr. Bill Carmody].
In recent years, I've been awarded multiple Sacramento Area Music Awards [SAMMIE Awards] and nominations for various projects I've contributed to over the past decade; including Groovincible, Be Brave Bold Robot, ZuhG, Ideateam, and more.
Composer
Basically, I do what I think sounds good and what feels good. To some, that might sound like an oversimplification but it is at the heart of everything I am trying to do musically. I start off by improvising; throwing a bunch of notes in the air like paint on a blank canvas. I might spend hours working out ideas on various instruments, simply trying to create a certain mood.
Later, I'll look at it through a few lenses [chord progression, melody, overall mood] and use that data to help re-create the emotional content that the original note sequence produced in my brain. I take the improvisation and slow it down so that I can pick it apart and alter it if needed–trying to get the right vibe. Finally, employing loop pedals and Ableton Live to build out the parts, I perform and record the results.
Performer
I perform on alto, tenor, and baritone saxophones primarily but I also have proficient chops on guitar, piano, flute, and voice. I'm often asked to record or sit in with my friends' bands–which is something that I love. I always appreciate the opportunity showcase my talents, [but really] the best part is exploring uncharted territory with my musical peers.
Performing [for me] is composition that has been sped up. Meaning, after all of the musical programming takes place, only then can I utilize and display the new muscle memory I have developed from all of the practicing and rehearsals. At a show, I aim at getting in the zone and losing myself in the sonic landscape that I am creating. I want be in a state where I can truly be present on stage, experiencing the moment with everyone.
Educator
I love teaching and find it very rewarding. My musical education comes from public schools, junior college, private lessons, working at record stores, and over two decades of stage and studio experience in various bands and large ensembles. Please visit the Music Lessons page for more information.